Quick Guide on How to do an Internal Link Audit
Internal links really do make an impact on the overall SEO performance of your site. And what's alarming is that a lot of online marketers have been neglecting the benefits internal links bring. People are drawn to strategically planning and implementing external links that they forgot to optimize their internal links.
Whenever there are issues with your website's SEO performance, two factors might be the reason. It's either the quality of the page itself or the interlinking of the site's pages. If the latter is the cause, you should make an internal link audit your next priority. Before we dig deeper, let's discover first the most common internal link issues that you need to lend your eyes to.
Common Internal Link Issues You need to address
Inconsistent Page Structure
Too many websites have no clear organization at all.
Marketers sometimes spend their time mostly focusing on their business that they put a low priority on their site, causing them to upload content without an actually viable strategy. This, in return, make your page structure messy.
Internal Links got broken
Having a broken internal link is very inconvenient not only for the users but also for you. This link points your users and crawlers to a dead end, not knowing what are they doing there. Broken links negatively impact your page's authority ranking, destroy conversion rates, and indirectly affect your SEO performance in factors like bounce rate, sessions, and time on site.
Usage of non-descriptive anchor texts
Clicking on unclear and non-descriptive hyperlinks can be misleading and might disappoint the users or search engines. Users and crawlers got confused if your anchor text is not descriptive enough. For example: "click here" "read more," and "show more," don't exactly state what page are they pointing to. It's too vague. 
Overdoing Internal Links on one page
Using the same on-page link on a specific page affect negatively your site. Search engines will flag your site and harm your site's overall rankings on SERPs.  It is also not a good interlinking strategy to stuff one page with a bunch of on-page links. Search engines have a time analyzing and evaluating those pages, whether they are related to each other or not.
Using internal links with Nofollow attribute
The use of in Nofollow attribute for an internal link is a pure waste of time. These links restrict search engines from crawling the pages linked within the content. Nofollow internal links work like a black hole to your website, making your content lose page rank. Nofollowed links also hint to the search engines that you are do not trust the page you are giving a link to, which, in return, can lead to a higher spam score.
Another issue that you need to audit is orphan pages. These pages are site pages that are not interlinked to another page or content of your site. An orphaned internal page can cause problems to your website SEO-wise. This includes a significant decrease in ranking and traffic. In addition, orphan pages don't perform well on SERPs even if they have great content. This boils down to the fact that these pages cannot be indexed and cannot be found by crawlers.
Page crawl depth of more than 3 clicks
If a page needs more than 3 clicks to be reached, it will perform poorly because search engines will have issues crawling it compared to a page available in one click. In fact, deep pages have a lower PageRank because search engines are less likely to find them and so to crawl them.
Pages with only one internal link may not be the best idea. It can be a missed opportunity for your website SEO-wise and with user experience. It stops your users from navigating to more relevant pages and content of your site.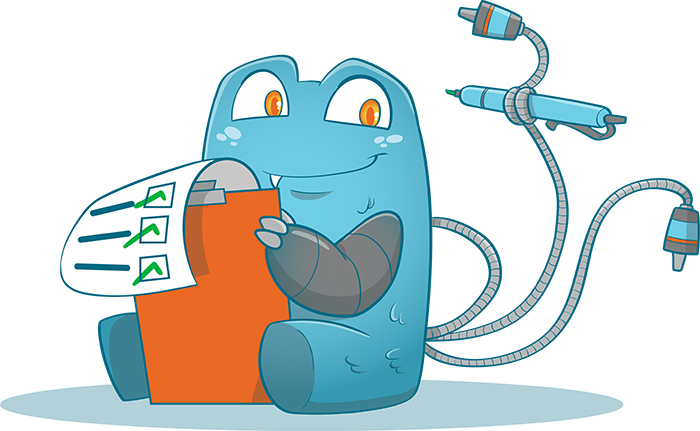 How to do an Internal Links Audit
There are a number of tools you can use for your internal link audit. You can use SemRush or Screaming Frog to collect all the issues found on your internal link.
Check Internal Link Structure
Before you start auditing your internal links, you first need to make sure that your website structure is clear. Revisit your site structure, this helps Google understand the "context" of your website. 
A clear website context boils down to the manner in how you interlink your site's pages.  Do not randomly interlinked pages just because you want it that way. You have to strategically plan out things before you implement them. You need to make sure that the interlinked pages are related topically to each other.
The number of clicks may not directly affect your user's satisfaction in navigating your site but when it comes to SEO, you need to consider your site's click-depth because it affects significantly your performance in SERPs.
You can start optimizing for click depth by identifying the most important pages of your site. You need to make sure your contents were not buried deep inside your website. Overall, you should revise your pagination. Proper implementation of pagination, in a way that lessens the dept of your key pages, makes it easier for search engines to fully navigate throughout your site.
In fixing an orphaned page, you need to go on a hard way first… finding which pages are orphaned. You may search these pages on XML sitemap and Google index. You can also initiate using crawler tools and audit if there are any disallow instructions that pop up.
Stop 'Nofollow' PageRank Evaporation
You can stop PageRank evaporation by removing the Nofollow attribute from the internal links to the important pages you are linking to.  We have learned that Nofollow attributes stop search engine crawlers to navigate further to other pages, so you should avoid adding Nofollow rel on your top pages.
There are instances that you might need to use Nofollow rel. This includes when the receiving page has low quality, or the receiving page is not that important, or if you are linking to duplicate content.
Add Meaningful and Descriptive Anchor Texts
Use anchor texts that are descriptive in a way that the readers or the bots will get a hint where are they leading to. As much as possible, avoid using anchors like "click here" or "read more."
Take advantage of the situation that Google is not giving penalties when you add keywords on your anchor texts. It would be a great idea to make your anchor texts keyword-rich, especially on pages at the top part of your page structure
Summary
The performance of your website depends on how you structure your internal links. If you poorly implement it, your rank on SERPs will surely significantly affected. 
Plan out how you interlink every page of your site. Know what you consider is the most important content of your site. Think about the relevancy of the pages you are interlinking and follow the guides discussed above. To get a better report about how your internal links are performing, Internal Link Juicer provides you an automated internal link WordPress plugin. With this tool, you are in full control! Discover informed and clever reporting with Internal Link Juicer.